Frog eyes piercing is quite an eye-catching tongue piercing. As it emerges from your tongue, it leaves a lasting impression. Aside from its appeal, this type of piercing isn't too painful. Usually heals relatively quickly.
If you're curious about the benefits and potential drawbacks of frog eye piercing, we've got you covered with all the details. Our comprehensive guide also provides tips for piercing care, various materials for jewelry options, and other relevant information.
(Related: Thigh Tattoos: Their Popularity and Design Options).
Understanding Frog Eye Piercing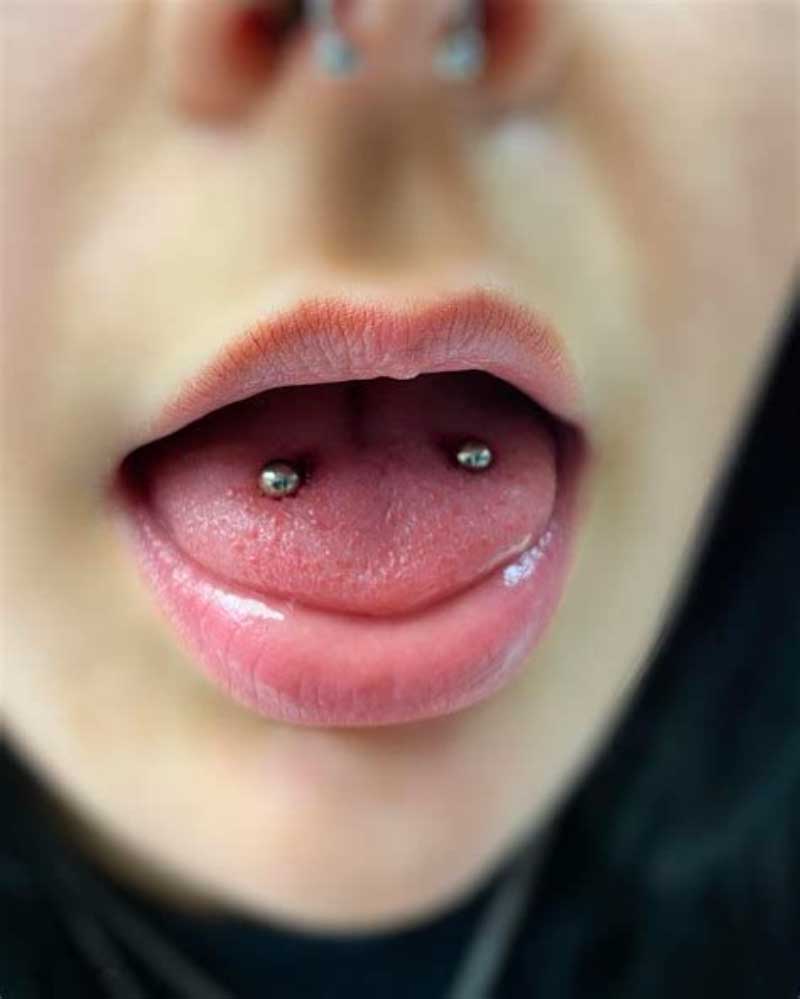 Mouth piercings come in a range of styles and types. From vertical piercings to horizontal, midline to frolic designs, and lip to tongue piercings, plenty of choices exist.
Frog eyes piercing falls into the category of double tongue piercings, where the tongue is symmetrically pierced, and two barbells are separately inserted into those piercings.
As a result, when you stick out your tongue, the ends of the barbells protrude like a pair of frogs' eyes. The placement of these piercings should be at the level and distance from each other. It's worth noting that frog eye piercing is often referred to interchangeably as venom piercing.
Frog Eyes Piercing vs. Snake Eyes Piercing
The piercing known as eyes tongue piercing is often mistakenly called snake eyes piercing. Although there are similarities between the two, they are not exactly the same.
The snake eyes piercing, also a type of tongue piercing, is positioned closer to the tip of the tongue, while the frog eyes piercing is usually placed more towards the center of the tongue.
Furthermore, the snake eyes piercing employs a single curved barbell rather than two straight ones. Like in frog eyes piercing, the ends of this curved barbell stick out from the tongue and resemble snake eyes.
Choice of Jewelry for Frog Eyes Piercing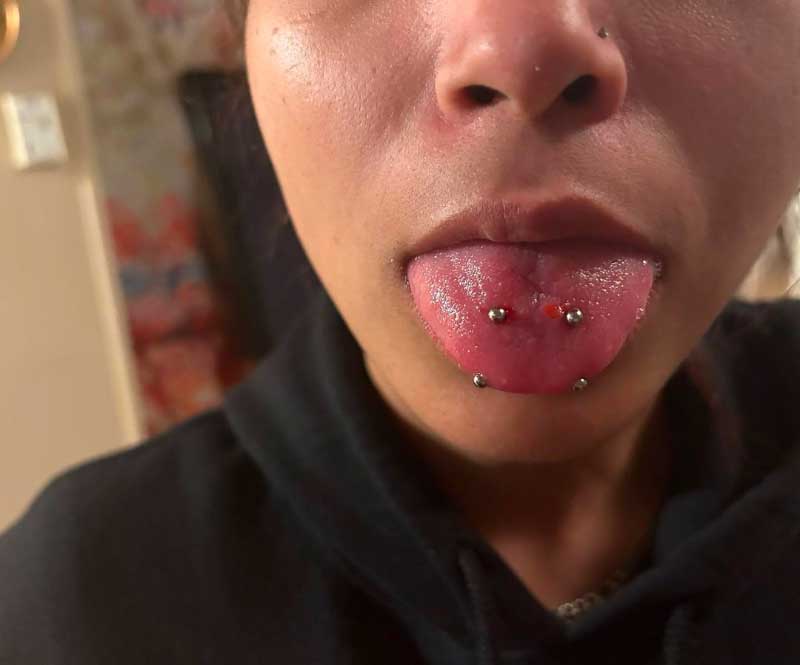 When it comes to choosing jewelry options for frog eyes piercing, there are generally two categories. Barbells and rings. Each category offers a variety of subtypes.
Initially, your piercer will use a straight barbell on each end for your new piercing to aid in healing. The barbell's ends feature balls that hold the jewelry in place and symbolize the frog's eyes. The length of this barbell should be sufficient to accommodate any swelling that may occur after the procedure.
Once your healing process is complete, you can switch your barbell style according to your preference. This could include using two barbells, a curved barbell, two bead rings specifically designed for tongues, or other suitable options.
Materials for Frog Eyes Piercing
The materials used for frog eyes piercing are similar to those used for other piercing jewelry types. Common materials include gold, surgical steel, titanium, niobium, and biocompatible polymers. Here's a closer look at each option:
Gold: If you're willing to splurge a bit, gold jewelry can add a touch of luxury to your piercing. Just make sure it's 14K.
Surgical steel: Keep in mind that surgical steel may contain traces of nickel. If you have a nickel allergy, consider exploring alternatives.
Titanium: For those whose skin reacts poorly to nickel, implant-grade titanium is a choice, as it's completely nickel free.
Niobium: While not specifically designated as implant grade, niobium is a lightweight and wallet-friendly alternative to titanium that is also hypoallergenic.
Biocompatible polymers: These plastic materials are unlikely to cause irritation or harm your teeth. Moreover, they harbor fewer bacteria compared to other materials.
Cost of Frog Eyes Piercing
When it comes to the cost of getting a frog eyes tongue piercing can vary greatly depending on factors such as the studio's location, popularity, the expertise of the piercer involved, and the type of jewelry you select.
On average, getting a frog eye piercing can range from $50 to $100. Since it involves creating two instead of one, it tends to be more expensive compared to single piercings.
If you're looking to save money, you might want to consider a studio located outside the city center or less well-known.
However, it's crucial to maintain the expertise of the piercer and the quality of materials used, as this could potentially lead to complications.
Make sure you read reviews or get recommendations from people who have already had their piercing done by the piercer you are considering.
Pros and Cons of Frog Eyes Piercings
Like any other piercing, frog eyes piercings have their own set of advantages and disadvantages. If you're unsure about getting a frog eyes piercing, here are some key pros and cons;
Pros;
Customizable: The wide range of jewelry options allows you to tailor the style of the frog eyes piercing to your taste.
Quick healing: Compared to other piercings, frog eyes piercings generally heal faster. However, proper aftercare plays a role in this process. On average, healing may take between six weeks to two months.
Stylish look: Frog eyes piercings are unique and attention-grabbing. They guarantee that you won't go unnoticed.
Can be hidden: Even though some may see it as a disadvantage having the option to conceal your piercing when necessary can actually be beneficial, especially if you need to follow dress codes.
Customizable: The great thing about frog eyes piercings is that they offer a range of jewelry choices allowing you to personalize the style according to your preferences.
Cons:
Increased pain: Since you're getting two piercings instead of one, expect a bit more pain during the process.
Temporary difficulties with eating and speaking: The swelling from the piercing might affect your ability to speak clearly and eat comfortably while it's healing.
Potential impact on teeth and gums: Even with the right size of the barbell, there is a chance that piercing can cause erosion or damage to your teeth and gums.
Risk of complications: If an inexperienced piercer handles the procedure, there is always a possibility of nerve damage or issues with tongue muscle movement.
Proper aftercare is crucial for ensuring healing. Here are some tips for those considering piercings;
Maintain hygiene.
After each meal or drink, rinse your mouth with antiseptic lotion.
Use a soft toothbrush for brushing.
Avoid consuming spicy foods and alcohol during the healing period.
Keep the jewelry in place until the piercing has completely healed.
Rinse your mouth with salt water every four or five hours.
It's advisable to delay activities like kissing, sex, and vigorous physical exertion.
Applying ice or cold water can help reduce swelling.
Remember to wash your hands before touching your piercing to prevent any infections.
Choosing a frog eyes piercing often leads to people expressing curiosity and wanting to see it for a good reason. It definitely grabs attention. With our guide, you can achieve the possible results.
Frequently Asked Questions (FAQ)
What is the meaning behind a tongue piercing?
Originally tongue piercings held more than aesthetics. They had significance rooted in beliefs. Enduring the pain of the piercing was considered a way of showing respect to the gods.
Can a tongue piercing cause paralysis?
While a tongue piercing cannot result in full face paralysis, an improper piercing can lead to speech difficulties and other tongue-related problems.
Why do tongue piercings sometimes create odors?
Unpleasant breath after getting a tongue piercing is often due to aftercare. If you're unable to clean around or under the jewelry, plaque can accumulate around the piercing site resulting in an odor. Therefore thorough cleaning is crucial.
Can a tongue piercing cause a lisp?
During the healing process, swelling of the tongue may cause lisping. However, once fully healed, the lisp usually disappears.