Find yourself singing along to every Disney movie at full volume and counting down the days until you can revisit Disney World. We couldn't relate more. And if you've been thinking about getting inked, a Disney tattoo might be the perfect option. It's time to stop wishing upon a star for tattoo inspiration, and check out 15 of our favorite Disney tattoo designs for inspiration.
(See Also: Thigh Tattoos: Their Popularity and Design Options).
A Disney Dream Castle
The only thing more magical than a princess and her castle might be a stunning castle tattoo like @tattoosbytonigwilliam's design. A scenic design like this will take you back to your favorite Disney moments—and make you hum along to "A Dream Is a Wish Your Heart Makes" while you're at it.
A Subtle And Sweet Ode To Mickey
Of course, a Disney tattoo doesn't have to be anything over the top. It can simply be a sweet nod to your favorite mouse named Mickey, featuring his signature accessories, like @inkedmag's dreamy design.
A Super Sweet Minnie Mouse Bow
It can even be an ode to Minnie and her always-impeccable style, like @dreaminkcolortattoos's darling design. (We'd sure like a Minnie bow of our very own.)
A His and Hers Mickey and Minnie Set
These Mickey and Minnie couple-inspired tattoos that @samboneskee shared make the perfect art pairing to get with that special someone. Because really, the dynamic mouse duo is #RelationshipGoals.
A Darling Mother and Daughter Aristocats Design
The Aristocats-inspired mother/daughter tattoo from Pinterest is a design from our dreams. Plus, we always love a reminder that "ladies don't start fights, but they can finish them" from the darling Marie.
A Reminder To Live Worry-Free
Your dream Disney tattoo might simply be a way to show off the most inspiring quote from your favorite fairy tale—and, in @kirstyrich1's case, it may just act as a reminder to live with no worries.
A Badass Villain-Inspired Piece
And it doesn't have to be the good guys—the Disney villains that are seriously cool, too. And while the cartoon version might seemingly be the way to go, @nikkohurtado proves that sometimes the more realistic the design, the more unbelievably beautiful it'll be.
A Reminder Of Pooh And Friends
And don't doubt the power of the smallest things, like this Winnie The Pooh and Friends tattoo by @nikkirex. It's a relatively simple concept, but it might just take up the most room in your heart.
An Ode To Alice's Adventurous Tale
An Alice In Wonderland tattoo, like this design by Pinterest, might just be a simple nod to the story. Or, it can act as a reminder of the Doorknob's important message that things may be "impassible,"—but "nothing's impossible."
A Dainty Peter Pan-Inspired Reminder That You Can Fly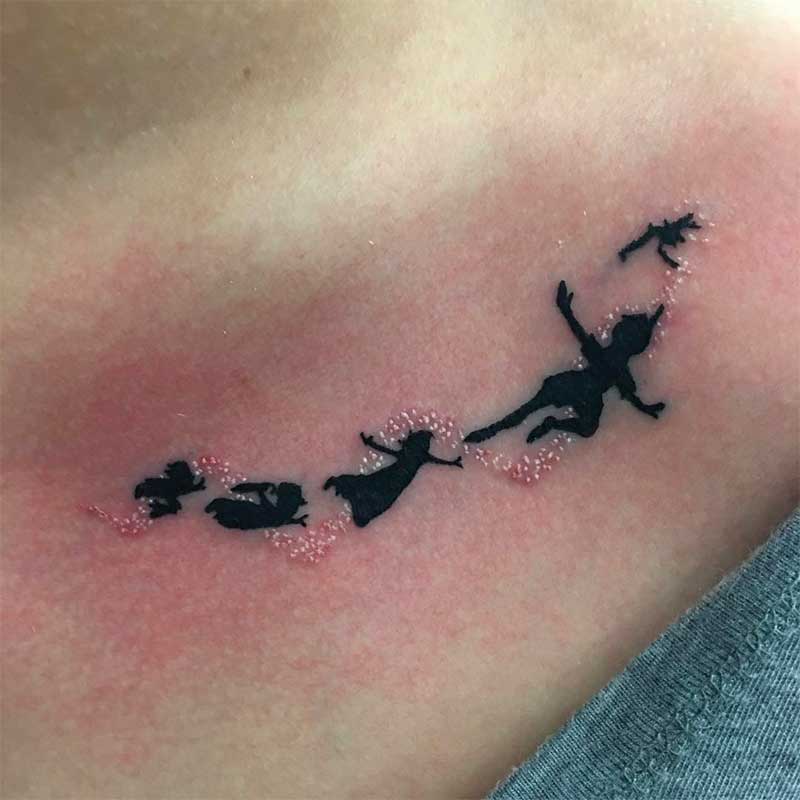 This ode to Peter Pan by @serenitytattoo reminds us that a little bit of pixie dust is all we need to bring some magic to our everyday lives, and a tiny tattoo like this might do just that.
A Tempting Snow White Design
Sometimes, it's the most important scene that makes for the perfect tattoo, like this gorgeous reference to the poison apple in this Snow White-inspired tattoo on @maddtatterz.
A Powerful Pocahontas-Inspired Tattoo
This Pocahontas-inspired tattoo by @kieferdarkmattertattoo combines one of the most iconic images with an empowering quote in the most beautiful way—a true testament to Disney characters and their strength.
A Magical Disney Collage
And if you can't pick just one favorite film to get tatted, it's no big deal. There are plenty of ways to get a tattoo and show your everlasting love of the Disney world, like this unbelievably beautiful design on Pinterest.
A Dedicated Design For Your Favorite Tale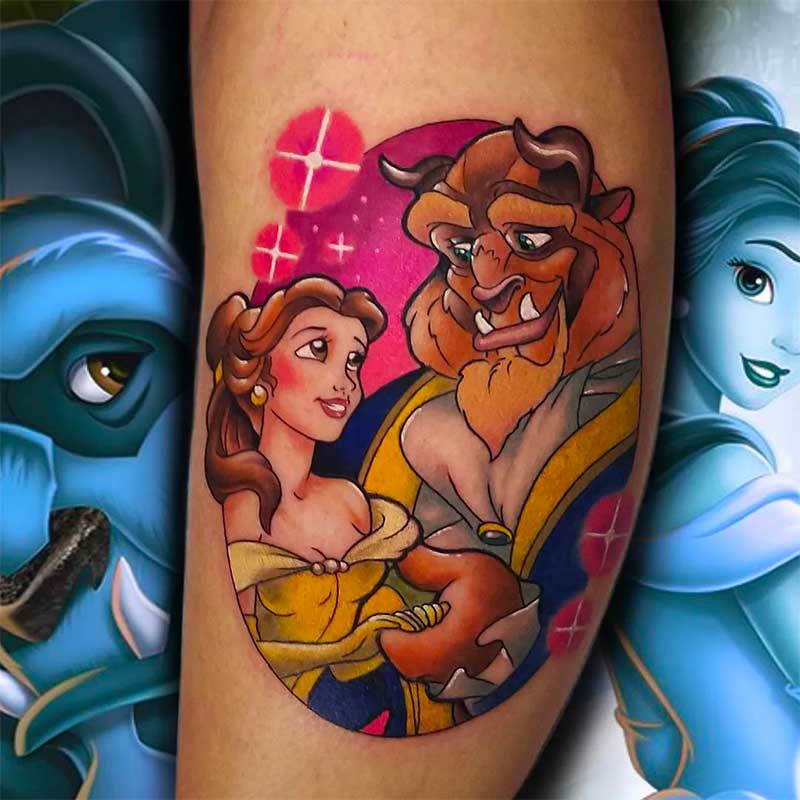 And the best part? It's impossible to run out of ideas for expressing your love for your favorite film. Your Disney tattoos can be as bold as you please, like @silviamoon_tattooer's ode to Beauty and the Beast.
All Around A Disney Dream
But whatever you decide, whether it be story-specific or something as magical as @cgualtieritattoo's Cinderella castle, you're sure to find a slew of Disney tattoos that'll make any and every dream come true.
From Cinderella's Castle to Mickey's Ears: Best Disney Tattoo Inspirations
Disney tattoos are a popular choice among tattoo enthusiasts. There are many different designs and styles to choose from, ranging from small and simple to large and intricate.
Whether you're a fan of classic Disney characters like Mickey Mouse and Cinderella or newer favorites like Moana and Elsa, there are plenty of Disney tattoo ideas to choose from.