UPDATE: I received a beautiful, handwritten note from Jessica at Le Tote. After she read this post and discussed it with the powers within the company, Le Tote changed their price adjustment policy. If you find a better price, Le Tote will adjust the price so that you can keep the item you already have. I'll call that a win.
And I'll call myself a very, very big fan.
Now… to pull the current clothes from my loving hands so that I can pack them up for another tote. I have 2 pieces I'm considering holding onto, but I really want to keep wearing it all. Then again, I could really use a new top next week…
I'm in a bit of Le Tote trouble. In August, they sent me a dress that I just loved. I knew it was something I'd want to wear often because it was so different from everything else in my closet, looked great, and would be wonderful for Indian Summer days this fall.
I decided to keep it. (This post contains affiliate and promotional links. Thank you.)
Le Tote, a company that sends you 5 pieces for a fee of $49/month, allows you to shop and add favorite items to your "closet." They send the five pieces, and you wear them as much as you'd like for a month, then send them back when you're finished. If you'd like to keep them, you can purchase them at their "discounted" prices. If you're finished with the clothing, you can send it back – free shipping, priority mail – in the shipping envelope provided by the company, and they'll send you a new box, no extra fee.
It's a fun, great deal. It's perfect for women who don't have time to shop for their own upscale clothing (many of their items are found at stores such as ShopBop, Lord & Taylor, Nordstrom, Piperlime, and Anthropologie, many of my favorite stores) or need to wear a dress or an outfit a time or two and then won't need it again. I'm loving it for events.
But I've run into a problem with their "discounted" claim. You see, these clothes have been worn before (and dry cleaned.) This is not new clothing; Le Tote is providing a rental wardrobe that has usually been rented and worn before it lands in my mailbox — maybe several times. So, I expect a discount if I opt to keep it. Not necessarily a huge discount; I recognize it's well taken care of and still on-trend and in season, so I'm not expecting 90% off. However, I am expecting Le Tote's clothing to cost less than I can find it at the stores that sell it brand new.
And, sadly, that's not what I'm finding.
The dress from August was, at the time I received it, listed at the price of $79. They claimed this cost was a discount because the retail price of the dress was $128. However, after a very brief search online, I found it was listed for $79 almost everywhere. Except for Neiman Marcus Last Call, where the cost was only $51.35.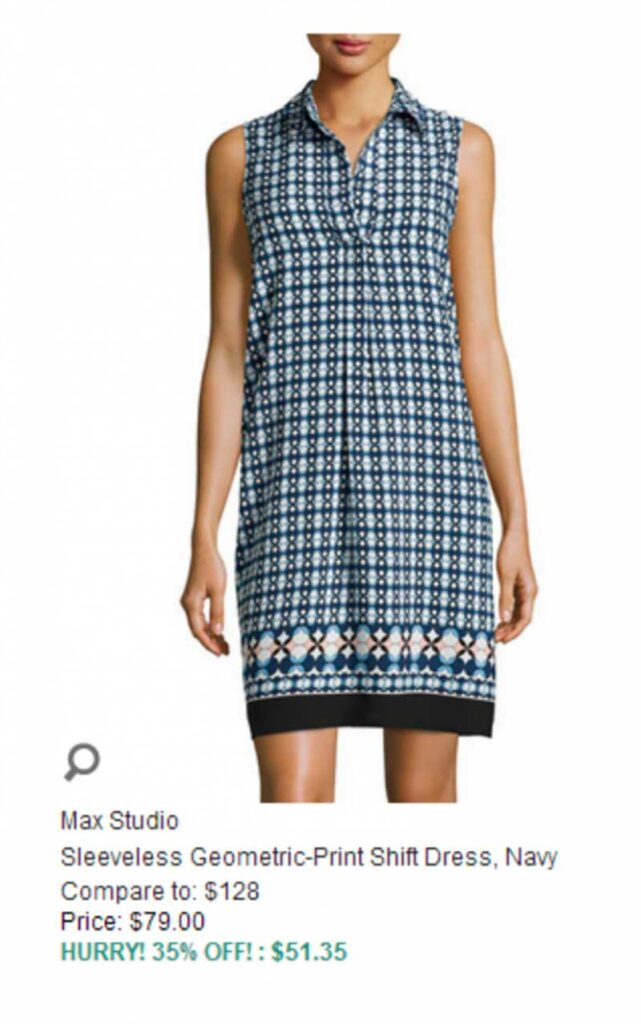 I had the dress on my body when I emailed Le Tote, asking if they'd honor the Neiman's price. There's no reason, I figured, for them to pay for priority return shipping when I'd be happy to purchase the dress. But not for $79. After all, I had already paid $49 for my monthly membership fee. I didn't see a need to pay the price that other stores were also charging for a dress that was rented and worn before.
Le Tote's reply, dated August 10:
Thanks so much for reaching out! I'm happy to help. I went ahead and searched the item you mentioned, and the reason the price is lower on that site is because it is only available in limited sizing.

I appreciate you letting us know about this; however, we do not price match for items that have limited availability.

Please let me know if you have any additional questions; I'm happy to help!
(By the way, as of this writing, Neiman Marcus Last Call still has the dress available for only $51.25. Le Tote has lowered their price to $64, as seen on the image above.)
Personally, I don't care what "limited sizing" was available; I only care about my size. And, because my size was costing me significantly less at Last Call, I ordered the dress using a code for free shipping and sent the Le Tote dress back, pausing my membership for the next month to reassess my loyalty.
In September, my membership started up again. Fall happens quickly in Southeastern Pennsylvania, and I knew I wouldn't have much time to shop new styles before the weather changed. My first box arrived last week; I wore a piece or two, realized I didn't love it and sent it back to await my next box. Before the 2nd box of September shipped, I announced to my computer, "stylist be damned. If I'm paying the $49 to use this program, I'll select my own damn clothes." So I switched out all of her suggestions and filled my box with items I really wanted to try. (I like that members are given the option to change what's going into the package with LeTote. Members are sent an email offering 24 hours to change what's in your box before it's shipped.)
When my box arrived, I immediately changed into a cute cute cute top from Sanctuary. I also wore both the dress and the skirt (and may ask for the dress again this winter), and I am in love with both accessories. I considered keeping it all.
Except, I checked the prices.
This was the Sanctuary top. If I wanted to keep it, Le Tote would have charged me $54 (a discount off the $69 retail price.), But the top is only $36.99 at Macy's, where their original cost was $49.99. While shipping isn't free at Macy's, it's still a lower price to pay for the shipping of this top, than to keep it from Le Tote. So, I returned the adorable Sanctuary top (ships free back to Le Tote) and will order from Macy's if I decide I love it and can't live without it. (Note that Le Tote slightly changed the names of clothing listed on their site, making it more difficult to search Google for a match.)
Jewelry seems to be a different ballgame. The Sunburst Necklace from House of Harlow is found to be $58-64 at most retail locations. Le Tote is charging a fair $38 to purchase the rental.
The LUCKY BRAND Lapis Oval Drop Earrings were $29 on both Zappos and Lord & Taylor's sites, but only $23 from Le Tote. They're in my ears now — too good to pass up.
Also in my box was a J.O.A. sweater dress. Le Tote is asking $64, stating the retail price is $88. I haven't been able to find the dress elsewhere to compare prices. It would look great with a jacket, tights, and boots this fall and winter, but I'm not ready to shop winter just yet.
Finally, this skirt from Le Tote is listed at $68, and Le Tote is asking $54. Again, I wasn't able to find the skirt elsewhere, and while I liked the texture of the skirt, I didn't keep it… the $54 seems fairly reasonable for the quality of the skirt, but I have no idea if it's a fair price compared to what I'd find elsewhere if it were still available.
So, where's the jury on Le Tote?
Honestly, it's still deliberating. On the one hand, the designer jewelry pricing is great — on par with RocksBox. But in this case, you can choose your two pieces (versus RocksBox 3 surprise pieces for each mailing.) However, the RocksBox cost is only $19 per month, plus a monthly $10 shopping credit. LeTote is charging $49 each month without a shopping credit, but, again, you can select your items.
The clothing has me torn, though the clothing itself has never arrived torn (wrinkled, yes; torn, no.) I'm not comfortable with Le Tote's reply that they won't adjust clothing prices. With the $49 monthly fee, I'm already paying more for these used items, so I do expect a significant discount below the retail pricing. There are no bonus purchase credits assigned (as there are at RocksBox), and you don't get to take your styling fee off the price of clothing you keep, as you do at StitchFix. (Though I absolutely promise I'm happier with LeTote's clothing and styling than StitchFix.)
But I need to remember that Le Tote is offering a valuable rental service Their goal (probably) isn't sales; it's providing a service. The $49 fee is a rental fee, not a styling fee. With that in mind, I need to place the rental payment in a different column from the cost of goods.
Still, as one who does purchase, I'm alarmed that the costs of worn clothing matches or are, often, greater than new at stores. So, I'm left in LeTote Trouble and need to determine my purpose in using LeTote's service: is it to buy or to rent?