The fashion world has always led the way when it comes to knowing what people will want to be seen wearing. Nowadays, social media has been chipping away, and in no time, it will likely be on top. With so many influencers and their followers driving public opinion, it is important to be sure that they are behind your brand to be successful.
Fortunately for Naked Wolfe, many of today's hottest influencers and celebrities can be seen wearing Naked Wolfe Boots. At first glance, these ultra-sleek boots will no doubt turn a lot of heads. Made with only the highest quality materials and exquisite craftsmanship, it is no wonder why they are priced so high.
Naked Wolfe Boots are a popular choice among celebrities and influencers, known for their sleek design and high-quality materials. But are they worth the high price tag? Read on to learn more about these trendy boots and find out if they are worth the investment. We also discuss Naked Wolfe Boot dupes, lower-priced alternatives that offer a similar look.
What is the major draw to Naked Wolfe?
Fashion trends come and go so quickly, and they can reemerge almost as quickly. This is what happened with the now-popular Naked Wolfe Boot taking the fashion world by storm. Back in the 80s and 90s, platform shoes and boots were all the rage. Then back in 2016, the Naked Wolfe brand was started and brought back the platform heel look thanks to A-list entertainers like Ariana Grande and others finding them. Once the fashion world caught sight of the wild-looking boots paired with mini skirts and dresses being worn by high-fashion models on the runways and the elite entertainers.
Why is Naked Wolfe boot's price so high?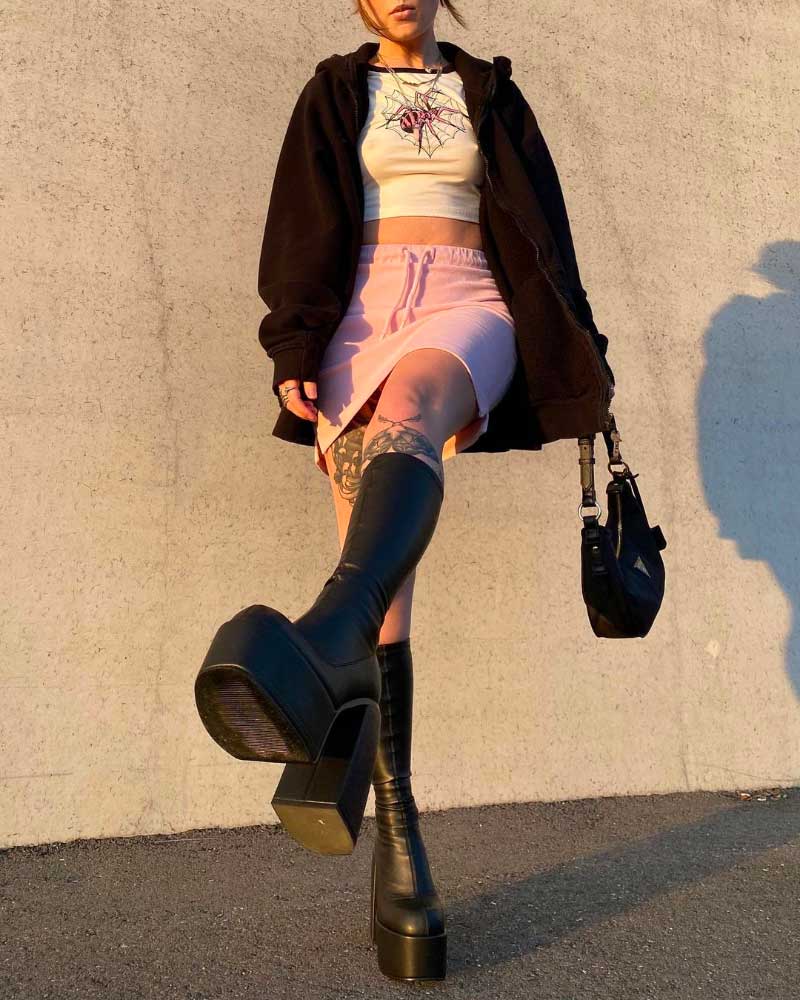 So, you may be asking why are these boots from Naked Wolfe priced so high. Like so many other high fashion items, these boots are very pricy. The average price for many of the different styles of boots is roughly $300+. The form-fitting soft vegan materials in the uppers and just-under-knee-high boots feature an ultra-high platform look, made famous in the 90s. Just think of a pair of 6" stilettos, except these have 4" wide heels.
Another thing that sets Naked Wolfe boots apart from other premium fashion brands is the large metal wolf head affixed to the back of the heel of each boot. There is also a small wolf head affixed to the back of each boot just above the heel. The real appeal is the very dramatic statement when paired with a mini skirt and form-fitting top worn by some of the top fashion models and A-list celebrities.
Is Naked Wolfe worth it?
The answer to that question lies with the person buying the boots, just like any other piece of high fashion designer clothes on the market. Judging by the quality of the boots, the hefty price tag would be justified. Whether or not they are worth the price you have to pay is another story.
However, if you want to own a pair of naked Wolfe boots but you cannot afford to shell out more than $300, you are in luck. There are alternatives for you to consider; they are referred to as Naked Wolfe Boot dupes. These are cheap knockoffs of the original Nake Wolfe Boots and are being sold by numerous websites all across the Internet.
Naked Wolfe reviews
There are not a lot of reviews of the Naked Wolfe boots available online. This was quite surprising to me since they have been around for many years. We did find some consumer Naked Wolfe reviews posted on review sites like Trustpilot. The reviews ranged from really good to really bad and everywhere in between. Some people really loved the quality, and sizes fit just right, and others were not impressed with either fit or quality. The complaints generally have nothing to do with the boots themselves; they generally are related to customer support issues.
Why Everyone is Going Crazy Over Naked Wolfe Boots: A Closer Look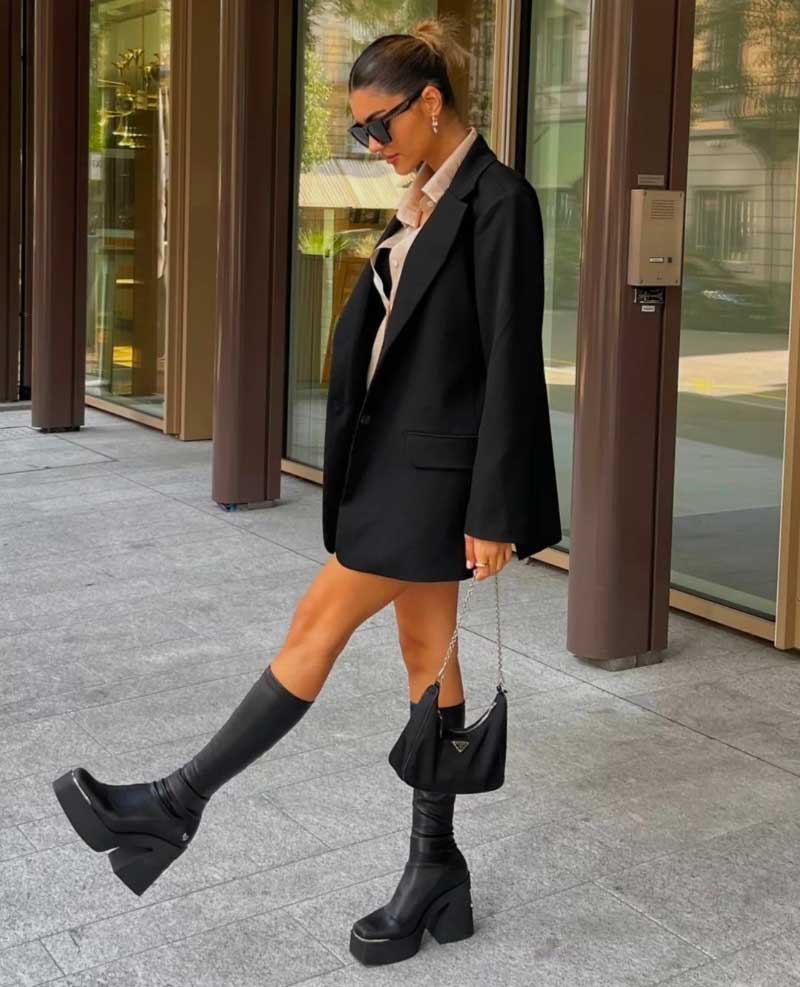 Naked Wolfe Boots are high-quality, stylish boots worn by influencers and celebrities.
They are made with premium materials and craftsmanship and typically cost around $300+.
The boots feature a platform heel, with a 4" wide heel and a 6" stiletto look.
The boots have a wolf head affixed to the back of the heel, which makes a dramatic statement when paired with certain outfits.
There are not many reviews of Naked Wolfe Boots available online, but the ones that do exist are mixed.
Some consumers have had issues with customer support, but others have been satisfied with the boots.
Naked Wolfe Boots dupes are lower-priced versions of the original boots that are designed to look similar.
These dupes are sold by various online retailers and often look very similar to the real thing.
There are many different styles and prices available for Naked Wolfe Boot dupes.
Some consumers have reported that the dupes are not as high quality as the original boots, but they still provide a similar look.
It is important to be aware of the difference between the original Naked Wolfe Boots and the dupes, as the dupes may not be made with the same materials or craftsmanship.
If you want to purchase a pair of Naked Wolfe Boots, it is a good idea to do your research and make sure you are getting the real deal.
You can also consider purchasing Naked Wolfe Boot dupes if you want a similar look but cannot afford the original boots.
It is important to be aware of the potential differences in quality between the original boots and the dupes.
Whether or not Naked Wolfe Boots or Naked Wolfe Boot dupes are worth the price will depend on the individual consumer and their preferences.
What are Naked Wolfe boots dupe?
In the fashion world, it is common to see lower-priced versions of popular high-fashion designs being sold in stores. These products are designed to look very similar to the much more expensive designer garments and accessories. These are referred to as dupes or duplicates, and they offer consumers the ability to share in the look without breaking the bank.
These dupes often look so similar to an actual pair of Naked Wolfe Boots that they would fool most people. There are many different examples of dupes that are available from online retailers starting at around $30. You can easily find a duplicate of your favorite style of Naked Wolfe Boots, whether you like the near-knee-high uppers or a much lower style. These dupes still have the same skin-hugging design as the original boots that you fell in love with.
Top 3 Dupes available online
Their dozens of clothiers offering duplicates of high-fashion garments online. For this article, we decided to include just a few of them that offer Naked Wolfe-like boots. Their boots are all great, stylish, and high quality, just like the originals, without the bank-breaking price tag.
Steve Madden Cypress
Steve Madden offers a Cypress Knee-high platform boot that looks just like the famed Naked Wolfe boots. The boot comes in a wide range of colors and features a form-fitting upper. You can be seen wearing the same eye-popping style without having to shell out $300.
Lamoda Whatta Showdown Platform Boots
The Lamoda Whatta Platform Boots feature the knee-high version of the famed Naked Wolfe Boots. They offer theirs in a variety of materials and styles that go all the way to the knee. If you like the sleek zippered model or the laced-to-the-top, you have several styles to choose from. They all have the eye-popping platform heels that made the Naked Wolfe Boot so popular.
Wetkiss Platform Boots
Wetkiss is a shoe retailer that offers a wide range of footwear, including the chunky platform look. Their offerings are limited to the lower, ankle-high booties that look just like the Naked Wolfe boot. However, all of their boots are under $70. So, you get the same wild look of the ultra-high platform boot that caught your eye but save a lot of money.
Final Verdict
It is difficult to come to a definitive conclusion about Naked Wolfe Boots. On one hand, they are made with high-quality materials and craftsmanship and have been worn by many popular influencers and celebrities. However, there are not many reviews available online, and the ones that do exist are mixed, with some consumers reporting issues with customer support. Additionally, the boots are priced at a premium, which may not be feasible for everyone.
If you are interested in purchasing a pair of Naked Wolfe Boots, it is important to do your research and be aware of the potential differences in quality between the original boots and Naked Wolfe Boot dupes, which are lower-priced alternatives that are designed to look similar. Whether or not Naked Wolfe Boots are worth the price will depend on your personal preferences and budget.
(Image Sources: Instagram).